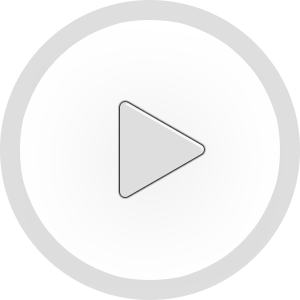 Skull and Bones
The cinematic trailer for Skull and Bones tells a 'rags to riches' story about the destitute character Sam, finding his way from the streets of Boston, overcoming adversities and swashbuckling his way to become a pirate lord in the Indian Ocean.
In order to tell the story which spans oceans, continents and time, Goodbye Kansas collaborated closely with DDB and Ubisoft Singapore to find the correct context, tone and tempo of the narrative as well as flesh out and develop the protagonist: Sam.
The challenge was to show the hero's journey, as well as hint at the larger scope of the game's world and the possibilities it offers.
The trailer was released July 7 2022.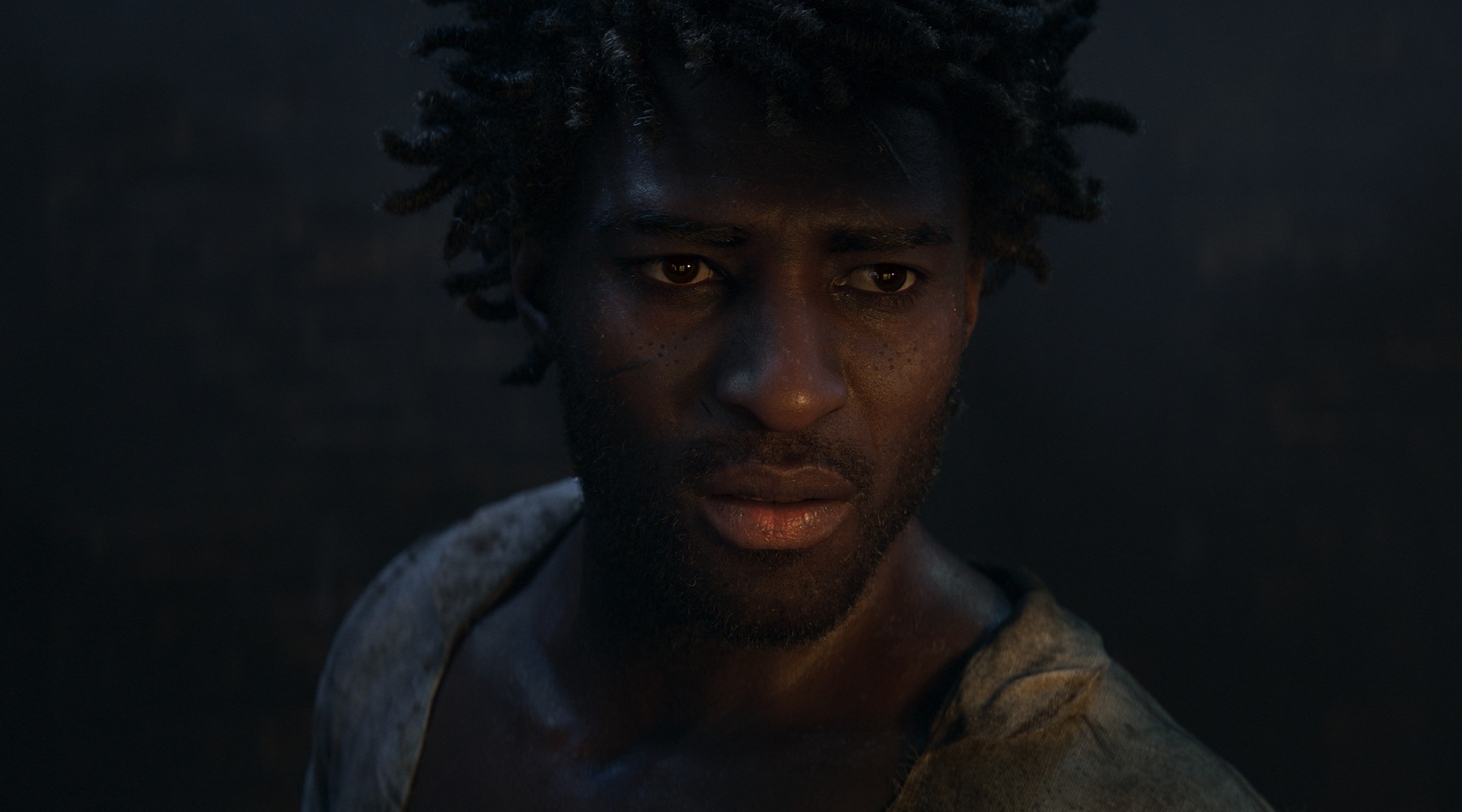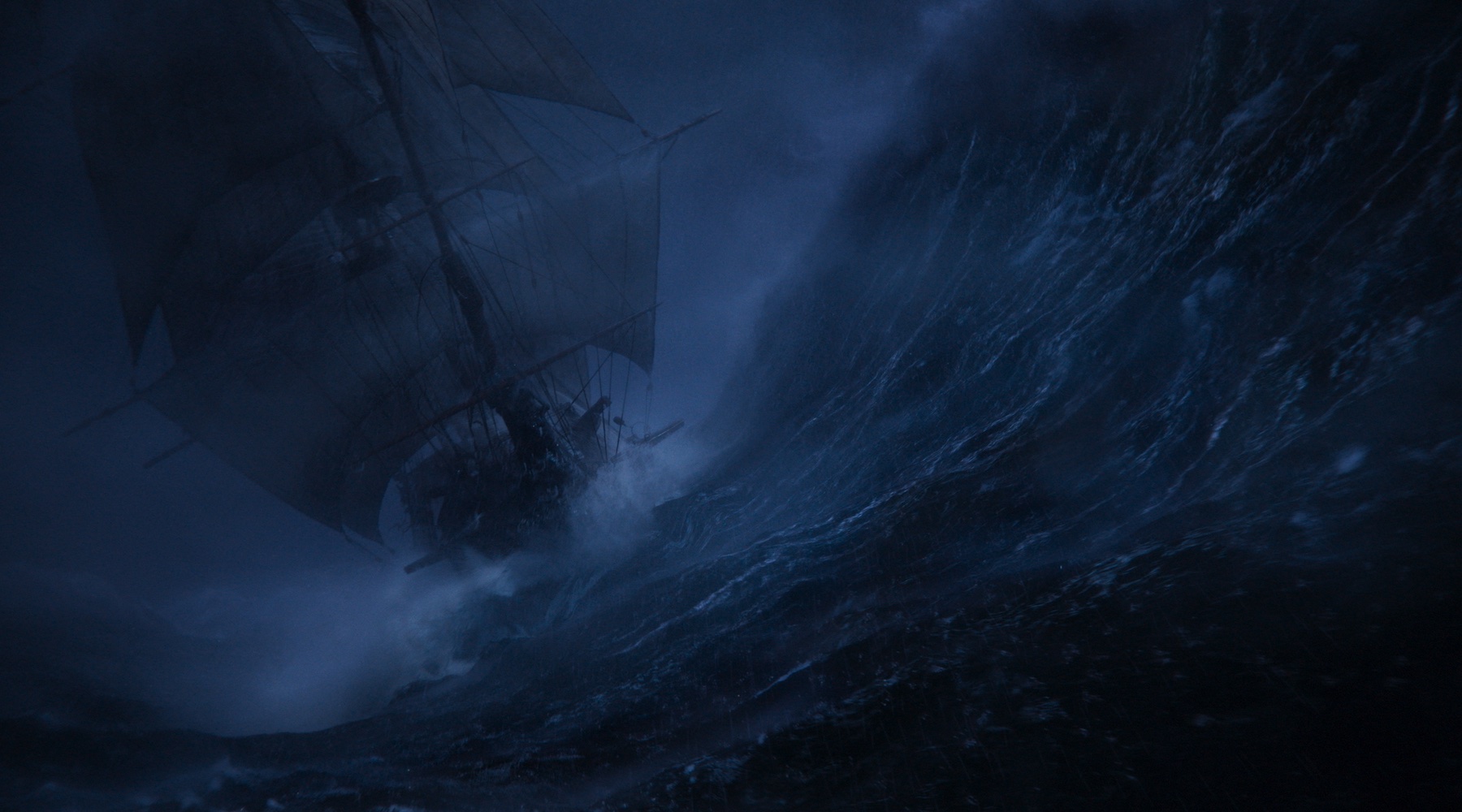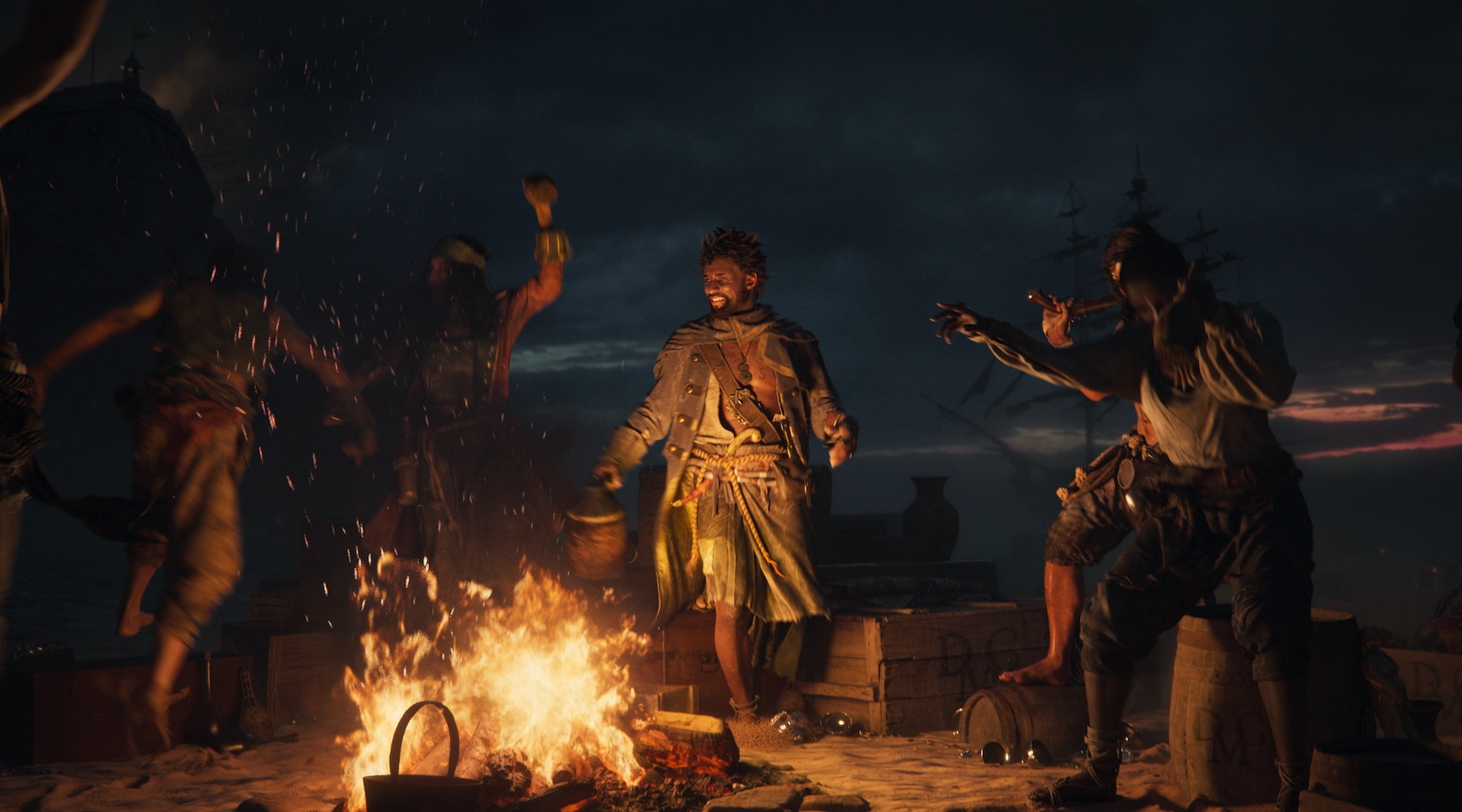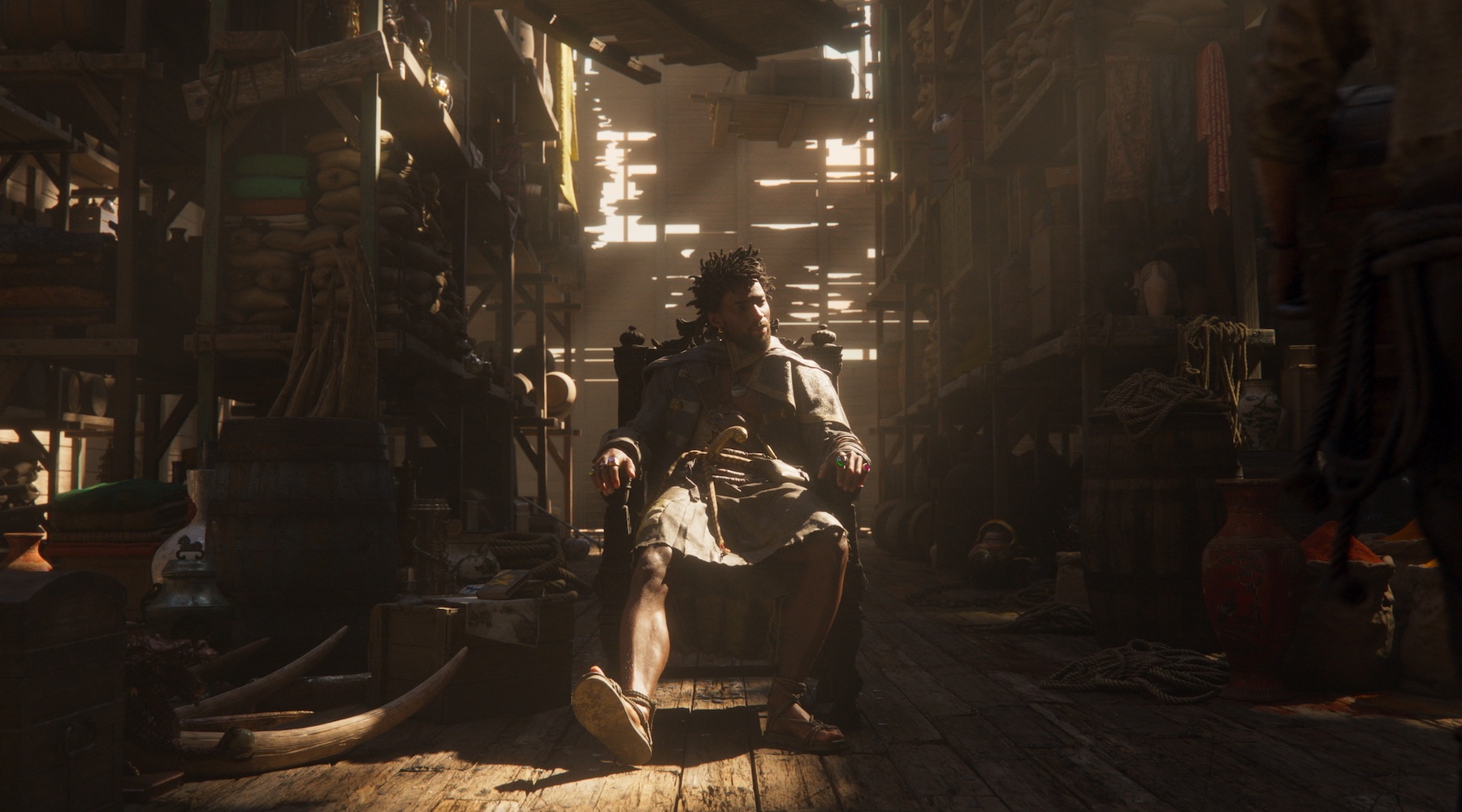 Credits
Client: Ubisoft & DDB Paris
Goodbye Kansas Cinematic Team
Director: Emnet Mulugeta
VFX Supervisors: Henrik Eklundh, Martin Johansson
CG Supervisor: Alexis Andersson
Art Director: Gustaf Holmsten
Animation Director: Jonathon Tyler
Executive Producer: Jan Cafourek
Producer: Rebeca Cervantes, Thomas Oger, Emily Williams
Production Coordinator: Anna Thenberg
Production Assistant: Emma Lindqvist
Lead Character artist: Daniel Axelsson
Character Modeling: André Valck, Magnus Eriksson, Sandra Isaksson, Jonas Skoog, Marlon Nunes, Frans Åkerman, Peter Skager, Andreas Leijon, Fabian Zackrisson, Axel Flovin, Carl Forsell
Lead Facial Modeler: Anneli Larsson
Facial Modelers: Hedda Peterson, Mert Erguden, Jonas Törnqvist, Shraga Weiss
Character Look Development: André Valck, Magnus Eriksson, Sandra Isaksson, Jonas Skoog, Marlon Nunes, Frans Åkerman, Peter Skager, Andreas Leijon, Fabian Zackrisson, Axel Flovin, Carl Forsell
Lead Environment Artist: Tony Alamo, Lukas McBride
Assets Modelers: Lukas McBride, Jesper Bardhamre, Carl Forsell, Erika Johansson, Gi Choi
Lead Environment Look Development: Tony Alamo, Lukas McBride
Look Development Artists: Lukas McBride, Jesper Bardhamre, Carl Forsell, Erika Johansson, Gi Choi
Lead Asset Artist: Daniel Axelsson
Assets Modelers: Fabian Zackrisson, Kristoffer Andersson, Matthias Mittelmeyer, André Valck, Peter Skager, Frans Åkerman, Andreas Leijon, Axel Flovin, Carl Forsell, Fredrik MacLeod, Saleh Najib
Lead Asset Look Development: Daniel Axelsson
Look Development Artists: Fabian Zackrisson, Kristoffer Andersson, Matthias Mittelmeyer, André Valck, Peter Skager, Frans Åkerman, Andreas Leijon, Axel Flovin, Carl Forsell, Saleh Najib
Groom Artists: Axel Flovin, Andrew Browne, Andreas Leijon, Sandra Isaksson, Anna Hilding
Lead Rigging: Stephanie Holder
Rigging Artists: Gabija Smalinskaite
Lead Character FX: David Vincze
Character FX Artists: Ludvig Eliasson, Viktor Lanner
Lead Facial Rigging: Mattias Nyberg
Facial Rigger: Eric Haraldsson
Lead Layout: Oliver Askew, Phillip Berg
Layout: Souvik Mitra, Marijne Klaassen, Svetoslav Petkov
Scene Assembly: Souvik Mitra, Marijne Klaassen, Svetoslav Petkov
Realtime Artists: Jacob Vaknin, Herman Fredlund, Tim Hermes
Animators: Jonathan Skifs, Jonas Ekman, Knut Svanfelt
Facial Animation Supervisor: Goran Milic
Facial Animators: Antonija Milic, Dylan O'Rourke
Lead Body Animation: Benjamin Brenneur
Body Animators: Thomas Obrecht, Anthony DeMeoIV
FX Lead: Filip Orrby
FX artists: Mayec Rancel, Max Öberg, Viktor Wagner, Martin Widö
FX intern: Jakub Kienitz
Lead DMP and Concept Artist: Gustaf Holmsten
DMP Artists: Mikael Widegren
Concept Artists: Till-Valentin Holder, Joel Mörk, Mikael Eriksson, Gabriel Björk Stiernström
Storyboard Artist: Ivan Gomez Montero
RND Prod Assistant: Tom Waldton
Lead Lighting Artist: Erika Johansson
Lighting and Rendering: Chris Debski, Johan Vikström, Sean Kalamgi, Alexis Andersson, Anna Hilding
Lead Compositing: Peter Blomstrand
Compositing Artists: Calle Granström, Hanna Myllyoja, Daniel Norlund, Denys Holovyanko
Editor: Emnet Mulugeta
Head of Editorial: Henrik Klein, Jimmy Zhu
Conform: Jimmy Zhu, Caio Simbula, Conor Byrne
Head of Pipeline: Erik Johansson
Pipeline: Dane Bettis, Albert Cervin, Stephen Hada, Sakarias Johansson, Linus Fredriksson, Karin Reidarman, Nils Lerin, Joakim Johansson, Dan Englesson, Finn Jäger
System Administrators: Thomas Eriksson, Tiffany Johansson, Gabi Gharib, Armin Cero, Emil Ferdinandsson, Hampus Robertsson, Johan Agurén, Kaja Michalak
Grading: Jimmy Zhu, Gustaf Holmsten
Goodbye Kansas Studios Capture Division
Head of Motion Capture: Samuel Tyskling
Motion Capture Lead: David Grice
Motion Capture 1st AD: Franziska Ewigleben
Motion Capture Data Artist: Nils Aulin, Jan Germala
Motion Capture Technician: Oskar Olsson
Motion Capture Operator: Ed Reeler
Motion Capture Generalist: Charlie Stern
Props & Staging: David Sagesen, Jonathan Forefält
Camera operator: Oliver Askew
Facial Motion Capture Operator: Stuart MacBean, Simon Brynte
Stunt Coordinator: Johan Lindqvist
Stunt Assistant: Emanuel Axelsson
On Set Production Assistant: Marcus Johansson Holm, Karl Gadd
Production Assistance (GBK Frontdesk team): Harrison Ryder, Felicia Brolin, Kara Ingram, Emma Appelgren
Performance Actors: David Nzinga, Lukas Larsson, Tove Vahlne, Nicklas Hansson Nilla Hansson
Stunt Coordinator: Johan Lindqvist
Sound Design & Foley: Robert Eklund @ Red Pipe